A nation's eating habits, even if they vary from region to region, are the backbone of a country's socio-cultural, nutritional and economic equilibrium. Keeping track of these trends is crucial for professionals and public authorities alike. 
Food traditions
The Algerian diet is based on a Mediterranean model, and appears to be the most relevant for their health. Predominantly plant-based, it is made up of cereals (durum wheat, semolina, khobz (bread), kasra, couscous, etc.), legumes (lentils, beans and chickpeas), fruit and vegetables, olive oil, with little meat, but products derived from milk, eggs, fish, etc. It is associated with a lower prevalence of the most common cardio-metabolic diseases and cancers. Cereals (39.22%) provide 59% of daily calories and 70% of protein1.
Lamb and mutton have long been consumed, as have Mediterranean fish and poultry products. In the south, camels are consumed.
Algeria is the only country in North Africa to have a wide variety of traditional pasta products made from durum wheat.
This model, of course, has been sidetracked by "fashions", global trends, fast food, chawarma, "junk food"... wheat has been replaced by a white flour depleted of nutrients, often topped in a pizza by a cheese substitute... but also by supply constraints: the taste for sugar, for soft wheat, for dairy products and sweetened drinks... distort the traditional nutritional balance of Algerians.
This evolution is also due to rapid demographic growth: the population has quadrupled in 60 years, reaching over 48 million inhabitants in 2021.
Household disposable income has grown significantly over this period, as have economic and social conditions: the average annual income of Algerian households has risen from 15.5 MDS dinars in 1969 (of which 45.6% for food) to over 11,381 MDS in 2018. Self-consumption is still high.
From a nutritional point of view, the daily food intake of an Algerian has risen from 1,723 Kcalories in 1962 to 3,343 Kcalories, meaning that it far exceeds the energy requirements recommended by the WHO (2,700 calories). Algeria is therefore classified as a low-hunger country (IFPRI ranking).
Shortages, flows and inflation
The FAO recognized in its latest 2022 publication on the index of agricultural and food price trends that the situation is particularly worrying in a world where climate change, transport difficulties and conflicts are further hampering access to food.
According to economist2 Abdolreza Abbassian, by 2021, the FAO food price index had rebounded by 28.1% on the previous year. Global cereal prices were at their highest level since 2012, averaging 27.2% above 2020 prices.
Vegetable oil prices were 65.8% higher than 2020; sugar prices were at their highest level since 2016; meat prices were 12.7% above 2020 prices; and dairy prices were 16.9% higher than 2020.
The FAO fears considerable complications for equitable access to food in 2022 and in the years to come, due to the disruption of global food and agricultural markets since the start of the COVID-19 pandemic.
Imports accounted for $8.8 billion in 2021 and $9.5 billion in July 2021.
Wheat accounts for 60% of energy intake (calories) in the average Algerian's diet, 70% of total protein and 88% of vegetable protein. Average production is estimated at 22.5 million quintals, which means that 65.5 million quintals have to be imported. These imports cost over 2 billion dollars a year. (UN 2022).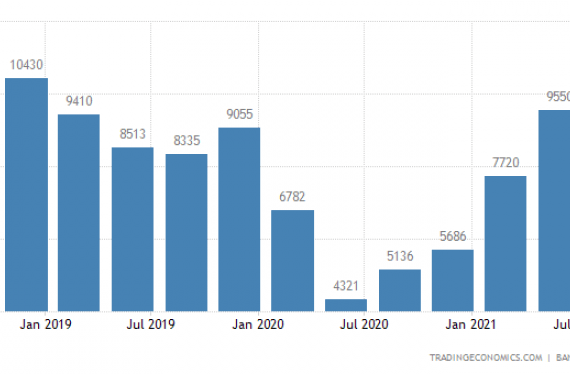 Cereals in Algeria
According to WFP3, average per capita wheat consumption in Algeria is estimated at over 220 kg/year, giving a total requirement of 88 million quintals for a population of 44 million.
Algeria's food security remains 70% dependent on cereal imports and their supply chains. According to this UN report, this dependence constitutes a major risk for Algeria, in the light of developments in the COVID-19 pandemic.The UN Economic Commission for Africa had recently estimated that Algeria needs greater local production to increase resilience in strategic sectors such as food and nutrition to the various crisis scenarios in a context of global instability with the still gloomy prospects of the COVID-19 pandemic.
Grain imports enable Algeria to meet its needs, i.e. 10.5 million tonnes of wheat4. According to the USDA, "Algeria could import up to 7.5 million tons of wheat in 2020/2021".
The Minister of Agriculture and Rural Development, Mohamed Abdelhafid Heni, indicated5 in April 2022 that the national cereal production to be collected in the years 2021-2022 will oscillate between 27 and 30 million quintals, enabling Algeria to reduce its cereal imports by 25%, with a maximum production recently reached of 27 million quintals: increase in the agricultural area allocated to cereals, (currently 3.3 million ha), improvement in crop yields from 60 to 70 quintals/ha, and the generalization of irrigation, particularly in the west and central regions of the country.
A financial envelope of 30 million dinars will be needed to compensate for old and new prices. Storage capacity for dry cereals and pulses is 34 million tonnes, in addition to the 25 million tonnes held by private concessionaires (flour mills and semolina mills).
2021, the FAO
Vegetable oils = an all-time high, + 65.8% Vs 2020
Sugar - 3.1% = 5-month low, (Covid-19 Omicron variant + drop in ethanol prices. In 2021, FAO Sugar Index + 29.8% Vs 2020
Meat = + 12.7% Vs 2020
Algerian trade balance 2022


Algeria
Last
Previous
Unit
Reference
T

rade balance

-3638,00

-3743.00

USD Million

S

eptember

2020

C

urrent

account

6156

-

1.87

Billion USD

September

2021

Current

account

to GDP

-10.80

-10.00

P

ercentage of GDP

December

2020

Exports

8940.00

7651.00




USD Million




June 2021



I

mports

9556.00

9190.00




USD

Millions




June 2021




Foreign

direct

investment




0.009




0.19




Billion USD




September

2021




Foreign

debt




3562.00




3829.00




USD Millions




September

2020



In conclusion, Algeria faces the challenge of moving towards food sovereignty, in particular by supporting its agriculture and farmers, and by innovating in order to realize its adage "the country's future lies in desert agriculture". The Algerian food industry is driven by passionate professionals determined to ensure the nutrition of new generations and build a future resolutely focused on balance.
Article written by NutriMarketing for the Djazagro trade show
Source: NutriMarketing
1According to Hamidi Ouheb 2022
2WHO economist (Food and Agriculture Organization of the United Nations)
3World Food Program, the UN's largest humanitarian agency, which fights world hunger by distributing food aid.
4Nord Céréales 2022
5La tribune d'Alger janv. 2022