A traditionally agricultural country, Algeria has overdeveloped specialized know-how in Saharan agriculture. As the country has evolved, several special features have emerged: the Agriparcs d'Alger and the In Door.
Algerian agriculture in a few figures
2381741
km², more than 4 times the size of France
8.5
Mha on a useful agricultural area
With its vast territory - 2,381,741 km², more than 4 times the size of France - Algerian agriculture accounts for 12.3% of GDP, on a useful agricultural area of 8.5 Mha.
The main limiting factors are climate, as well as the scarcity of fertile land and water.
This agricultural and agri-food sector is a priority for the Algerian authorities in order to reduce food dependency and the food bill: since 2000, the development of Saharan agriculture has been made possible thanks to the creation of large irrigated perimeters.
In the North, cereals occupy 37% of the UAA and 3/4 of the herbaceous crops: durum wheat (42%), barley (38%) and common wheat (18%), but with low productivity (15 q/ha). Potato production is virtually independent of imports.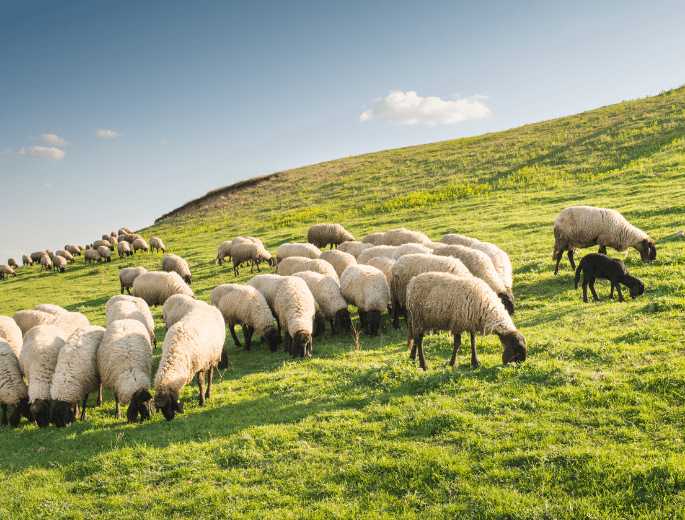 In the south, on the high plateaus and oases (32.7 Mha), nomadic, pastoral sheep farming dominates.
According to available information, Algeria has around 1 million farms, of which:
50% have less than 20 ha, with an average size of 8 ha.
Around 800,000 are privately-owned, occupying 69% of the UAA,
100,000 operate under concession on private State land (30% of UAA),
The remainder are state-run pilot farms or farms run by research and development institutes and organizations.
The agricultural sector suffers from insufficient productivity and a lack of infrastructure, and remains penalized by low levels of investment, under-mechanization of farms, and shortcomings in cultivation practices.
From agriculture to food
Algeria's agri-food balance stands at $0.5 bn in exports and $9.4 bn in imports, i.e. a deficit of -$8.9 bn. Algeria exports to France 54.1 M€ (2021), while France exports to Algeria 892 M€ (2021). France is Algeria's 3rd-largest agricultural and agrifood supplier (soft wheat and cattle).
Algeria's agrifood industry is booming, thanks to a private sector made up of both SMEs and major industrial groups. This growth is based on the use of imported raw materials, with the notable presence of major companies such as Nestlé, Danone, Castel, Bel, Lactalis and Avrill.
Livestock numbers include 26.4 million sheep, 4.8 million goats, 1.9 million cattle and 385,000 camels.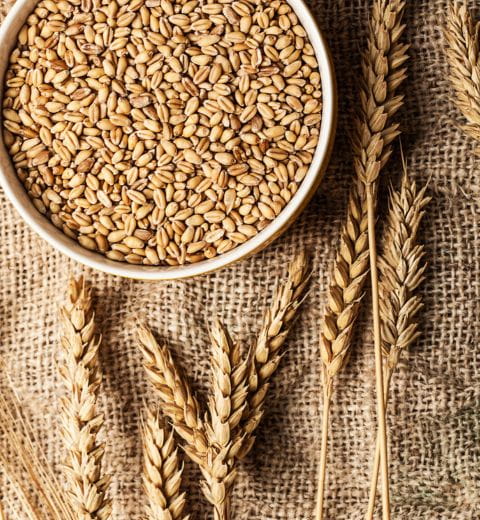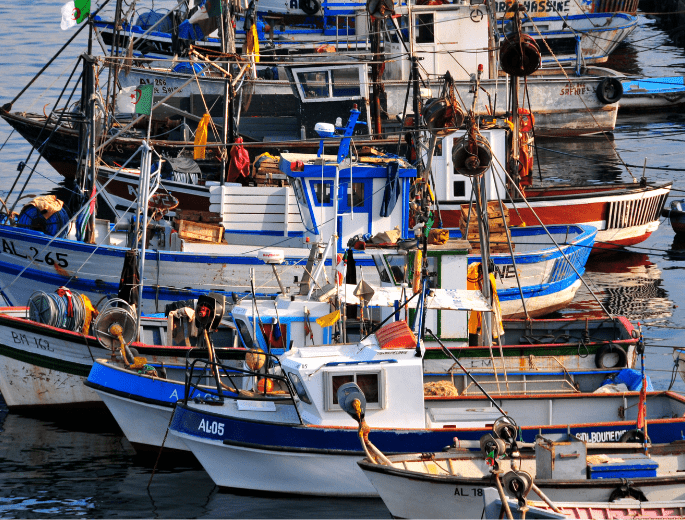 Fishing and aquaculture
With 1,600 km of coastline, 9.5 Mha of exploitable fishing and aquaculture areas, 39 fishing harbors and shelters, 4,500 fishing boats, 78,000 direct or induced jobs, this sector accounts for 100,000 tonnes / year of sardines (70% of landings), which cover 80% of national consumption. The fishing sector is a priority, and benefits from a "national strategy for the blue economy", with economic, environmental and training objectives.
Food processing industries
The agrifood industry employs nearly 700,000 people, or 10% of the working population, and contributes over 50% of non-hydrocarbon GDP. It is the country's 2nd largest industry, after energy, accounting for 40% of total non-hydrocarbon Algerian industrial sales.
The main cereal, dairy and sugar industries operate with a majority of imported raw materials.
There are several thousand food companies of all sizes, but the bulk of production is handled by a few large companies and a few dozen medium-sized firms.
Cereal processing, with public mills (Agrodiv, and its subsidiary Eriad), private mills and a few large producers (SIM, Benamor, Amour, Metidji, Harbour, Sopi, Moula, La Belle, Sosemie...).
The dairy sector includes GIPLAIT and more than 100 private companies of varying sizes, yogurts (Soummam - 40% of the market and Danone - 25% of the market) and processed cheeses, with Bel dominating ahead of Algérie crème, Fitalait, Priplait, etc.
Algeria's agricultural strategy
In order to improve food security and reduce the import bill, agricultural development is targeting strategic sectors such as cereals, oilseeds, corn, livestock and dairy production.)
The development of Saharan agriculture could provide 30-50% of national needs, with the creation of large-scale irrigated areas benefiting from significant groundwater reserves. Algerian hydrogeologists believe that this could be achieved under certain conditions.
The Office de développement de l'agriculture industrielle en terres sahariennes (ODAS) was set up to stimulate investment by facilitating access to land and offering investors a one-stop shop to support the development of strategic crops.
Agriparcs in Algiers: an appropriate solution
In Algiers, urban sprawl and the adverse effects of climate change are gradually weakening vast areas of high-quality agricultural land. To adapt to and mitigate the effects of these phenomena, the public authorities have initiated the development of urban agriparcs. Already 23 in operation, the plan is set to grow until 2035.
The program includes agricultural and forestry areas (forest rehabilitation, nurseries, arboriculture, citrus groves, market gardening, etc.), agricultural training areas (educational farms), leisure and recreation facilities (equestrian center, urban parks, bicycle paths, etc.). These important elements make Chéraga a good example to study as part of the preservation of urban agriculture in Algeria.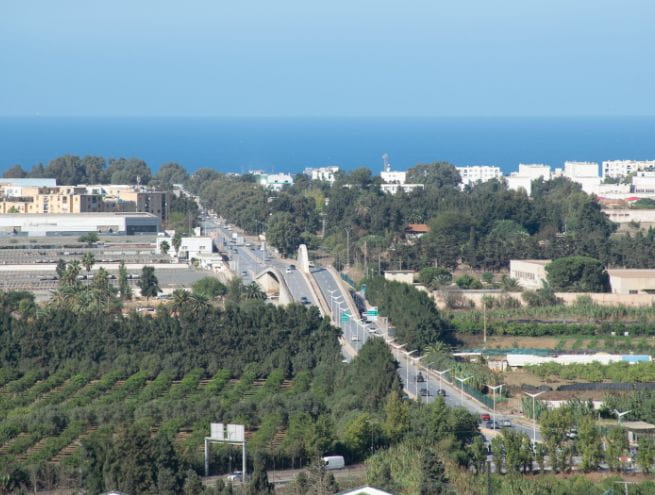 The climate is conducive to the development of fruit and arboricultural production: the current production system centered on market gardening, mixed production (market gardening - fruit arboriculture) and cereal production will be diversified by the planting of 60,689 additional seedlings: citrus trees (lemon, orange and clementine), and fruit trees (citrus, orange and clementine).
This sustainable agri-urban territory, proposed by Ba and Aubry in Chéraga, provides an initial overall diagnosis of the sustainability of this urban agriculture. This makes it possible to identify several major issues, optimize sustainability, reduce deficiencies and remedy imbalances.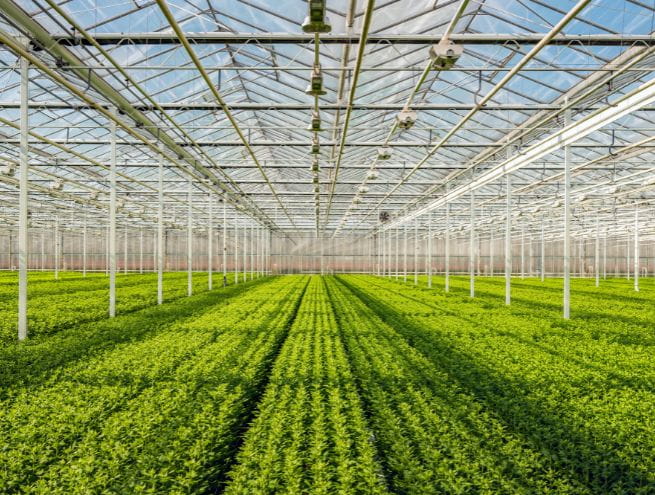 In-door agriculture for better water management
Actondata's scientific and technical initiative has enabled us to propose in-door agricultural solutions adapted to Algeria. Presented for the first time at Djazagro 2023, the ICOPONES, vertical greenhouses on metal structures, enable crops from 19 to 80 cm high to be grown on the ground all year round. For example, 12 cycles/year of lettuces, aromatic herbs such as parsley and mushrooms. There are also 6 annual cycles for cherry tomatoes, eggplants, strawberries and zucchinis. 4 cycles for peas, cucumbers and flower choices. 2 cycles for chillies, tomatoes and peppers.
Another structure enables intensive cultivation on a 2600 m² footprint, on 10 to 30 levels. Energy can be solar, geothermal or gas. Water is extremely well managed. Finally, a mixed housing/greenhouse structure enables a family to grow its own vegetables, fruit, herbs and spices all year round.
The latest advances and solutions for the future
Algerian cuisine is rich in fruit, vegetables and herbs, as well as hard and soft wheat, potatoes and olive oil. All these products need to regain their sovereignty. Recent inflation has highlighted the fragility of certain crops. It's time to develop every solution adapted to the country's different regions, on the express condition that the sustainability of the crops is ensured. At present, as Abdelahim BOUSSAA from the University of Khenchela demonstrated at his Agora des Experts conference, the possibilities for valorizing co-products and processing agricultural waste are still underdeveloped, with current processing capacities too low, if not non-existent.
Much remains to be done, but the new generation of engineers entering the job market is highly motivated and full of creativity to find economic solutions adapted to Algeria's specific situation.